The short answer? Yes, solar will work for you — there's always a way to make your personal living situation suitable for solar panels to be installed!
In South Australia, we're lucky that most houses are built to be suitable for solar panels and our summer climate supports long daylight hours and loads of natural sunlight. Home systems are also more affordable than ever, with solar panel pricing at an all-time-low — in fact, most solar power systems are paying themselves off within the first three years!
Still not sold on your solar power switch up? Keep reading, and we're sure you'll be swayed!
How much is your energy bill?
South Australia has some of the highest electricity prices in the world, so depending on the routine of your household and the size of your property, there's a chance that your energy bill is through the roof! Work out what you're paying on your quarterly bill, and then convert that to what you'd be paying for solar — as a guide, solar power costs around 6 cents a kWh to produce. Even when you take into account the cost of installation, most people have paid their system off and are living the low-cost solar life within three years.
If you think you might not be using enough electricity to justify the upfront costs of a solar system, perhaps look to install a smaller system that's more suitable to your needs. Another benefit of a solar power system is that it's long lasting, so you've got a while to reap the benefits.
Is your roof almost ready to be replaced?
If your roof is needing a refresh, now might be the perfect time to consider a solar power system! Roofing needs to be replaced every 20 years or so, while solar panels can last for around 40 years. Get the most out of your new roof and your solar power system by getting them both installed at the same time. While you're at it, look to invest in a strong and durable roofing material to support as many solar panels as it can handle. Some suggestions are: composite or asphalt shingle, concrete tile or standing seam metal.
How much sunlight does your roof receive?
There are a few factors that come into play here, such as what angle your roof is on, what direction it faces, and how much shading hangs over your roof (like trees). Our team at Esena Energy have ways to test your solar suitability before any decisions are made, so give us a call. We also have the experience and expertise to help make the switch to solar work for just about anyone!
Rebates and Incentives
Due to South Australia's high electricity costs, it makes sense that one in three houses now have solar panels installed. As a result of the high costs associated with solar, the government has introduced rebates and incentives to make the process more appealing and affordable.
Introduced in 2008, the Australian Federal Solar Rebate Scheme is a discount off of the cost of a new solar power system installation. The rebate must be claimed at the time of purchase/installation, and is worth around $650 per kW of installed panels. However, this scheme is slowly being phased out and is being reduced annually. Within 12 years, the phase will be removed completely, which is another reason to get onboard with solar energy now.
This offer is open to just about anyone — even households that already have an existing solar power system but are looking to upgrade.
The only restrictions to being eligible for the rebate are:
Your new system must be less than 100kW in size;

The system must be installed by a professional holding a Clean Energy Council accreditation (which our Esena Energy team holds); and

The materials that are used are approved by the Clean Energy Council (your Esena Energy consultant can assure you of this).
And here is an interesting tip for you — the rebate is based on the number of solar panels, NOT on the inverter size. This means that it is very worthwhile to add additional panels, above what the inverter is rated at, as you'll receive more of a rebate. Plus, you'll get more power in winter, mornings and evenings, and in many areas it's easier to get connected to the mains electricity grid with a smaller inverter (while maintaining your panel number). It's completely safe and approved by regulators, so make sure to ask your Esena Energy consultant about oversizing your panel amount.
Another incentive is the Feed In Tariff rates. Any excess electricity that your house generates doesn't go to waste — in fact, that clean energy is redirected to power someone else's home. When a solar power system creates more energy than can be used by your home, the electricity is exported back in the grid and then utilised by someone else. The best part is that you are paid a rate called the 'Feed In Tariff', which means you're actually making money from your excess solar electricity. This rate can vary anywhere between 0c to 20c per kilowatt-hour, depending on your retailer. While its most cost-effective to power as much of your own home with the solar energy you're producing, it's still beneficial to receive a rate in return for your unused power.
Due to the high price of solar batteries (usually valued around $10,000 – $12,000 each), the government has also introduced the Home Solar Scheme, which allows 40,000 SA homeowners to receive a subsidy that can halve the initial battery installation costs. For example, a standard household will receive $300 per kWh of battery storage, which means that if an 8kWh battery is installed that household would receive a $2,400 repayment. On top of this scheme, the government is also offering a low-rate loan service to assist homes looking to purchase and install a solar battery.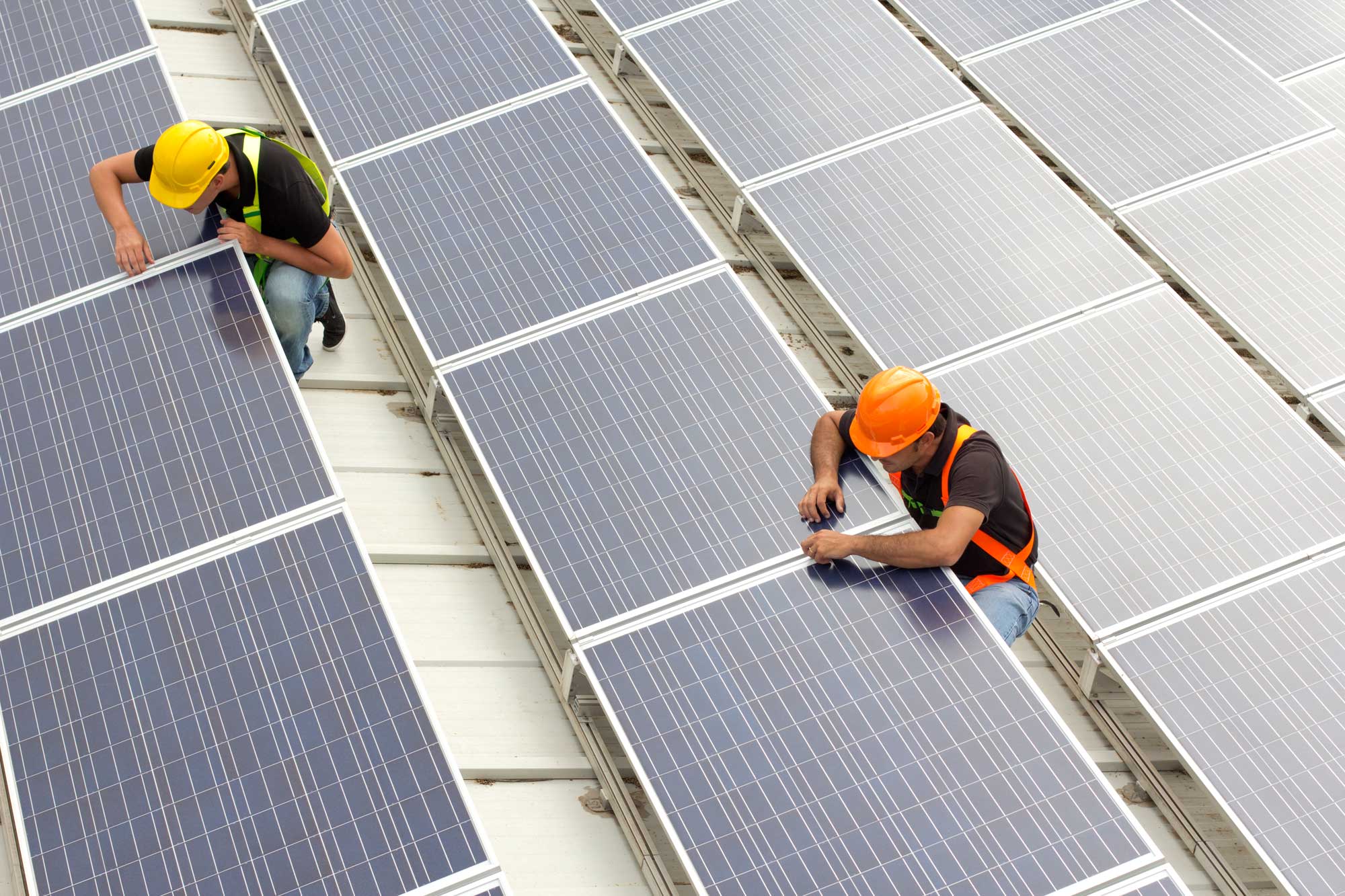 Considerations Before Installing
Before going ahead and installing solar panels on your home, it's a great idea to have a plan and a basic understanding of how solar will work for your home specifically. Each household has different electricity needs, and each house is designed differently, which can have an impact on the energy efficiency of your solar power system.
How much electricity do you use in your home, and when do you use it?
Self-consumed solar energy is the most valuable form of energy, with the financial benefits coming in two or three times higher than exported solar electricity. In saying that, it's great to know that you'll receive a financial return on any excess energy, so having additional panels is certainly not a bad thing.
Take the time to measure how much electricity you use each day, and track the times when your home is most active. This is also a great time to make adjustments to ensure your understand how many panels you'll really benefit from. Set automatic timers on the appliances that you might run outside of daylight hours (washing machines and dishwashers), and make sure timers are set correctly on your pool pumps and hot water systems. Shift as much energy as possible to the daytime, to increase the returns on your solar system.
Once all of this is done, you'll be able to accurately measure how much solar energy your household will be able to use, minimising external electricity bills and making the most of your solar energy.
How many panels should I get?
When you first install solar panels, our team at Esena Energy recommends that you install as many panels as you can. Realistically, the only limitations to how big your solar power system can be are:
Budget;

What your roof can properly and safely fit; and

The amount that your distributed network service provider allows.
It's significantly more expensive to add additional panels to an existing solar power system if you realise that you require more power for your day-to-day needs. Make sure to consider the different usages in summer and winter, so that you're purchasing the right amount from the get-go.
How will panel position impact your energy production?
When it comes to the positioning of your panels, it's vital to take into consideration the direction that your roof faces, and the rising and setting of the sun. In South Australia, the sun rises in the east and sets in the west, meaning that east-facing solar panels produce the most energy in the morning, and west-facing panels produce most of the energy in the afternoon. However, if your panels are north-facing then the highest point of electricity production will be around midday, also catching some of the rays in both the morning and afternoon.
Where possible, it's ideal to have a combination of all directions — east, west and north facing panels — so that you're catching sunlight at all times of the day.
When positioning your panels, take into consideration the daily routine of yourself and your family. If you work a daily 9-5 job, or if the kids are still at school, then you'll be using most of your energy in the morning and the afternoon. If your family spends time at home during the day, or if you have appliances that use excess energy during the day (for example, a pool filter), then positioning your panels to capture sunlight in the middle of the day will be beneficial.
Unless your roof is completely flat, it's perfectly fine for your panels to follow the existing angles of your roof. Your Esena Energy consultant will be able to measure and test how effective the angles are, but if you're looking for yourself in the meantime, follow the below guidelines — the ideal panel angle to maximise your energy production over a year is simply to stay within a few degrees of the latitude of your location:
Canberra: 35°
Hobart: 42°
Darwin: 12°
Adelaide: 35°
Perth: 31°
Brisbane: 27°
Melbourne: 37°
Sydney: 34°